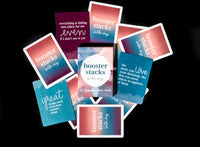 Better Days Stack
Bringing a little boost of mindfulness and brightness to your day - one card and intention setting moment at a time.
This stack of cards contains 52 unique messages all centered around the themes of gratitude, self love, reflection, and building a growth mindset.
The Better Days stack is the first product produced by Booster Stacks and created out of the mess of a year that is 2020. We hope it brings a little more sunshine to your days.
Clean Slate Stack
Relationships come in all shapes and sizes - and how we relate to others greatly impacts our day to day life. This stack is designed to bring empowerment, perspective, a boost of self love, and breathe new life into relationships of all kinds.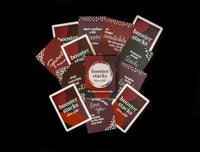 How It Works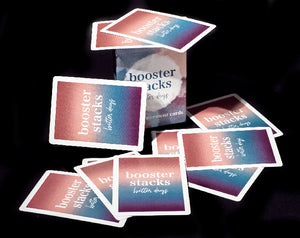 Shuffle
Begin by first shuffling then draw a card at random. There is no "right" or "wrong" way to use these cards - use once per week, daily, or flip through multiple cards in one sitting. Frequency of use is as desired. Each deck contains 52 unique cards.
Consider
Reflect on the message and consider how the message could be applied to your day or week. Optional extra: Post the card up somewhere where you'll see it throughout the day - such as on a mirror or as your phone homescreen background.
Share
Some intentions are personal and some are best shared. Share your daily Boost on social media and tag us @boosterstacks. When you've gotten all your use out of your deck, we encourage gifting it on to the next person who may need a boost. 
Introducing - the clean slate stack
The Perfect little boost
Be Kind To You.
Self talk, mindfulness and intention setting is more important now than ever before. It's so easy to be hard on yourself - but a little mindfulness and self love goes a long way.
Adding in Booster Stacks cards to your daily routine can help bring a little brightness to your days through shifting mindsets, remembering we're wildly capable, and being reminded to find the positivity in every situation.